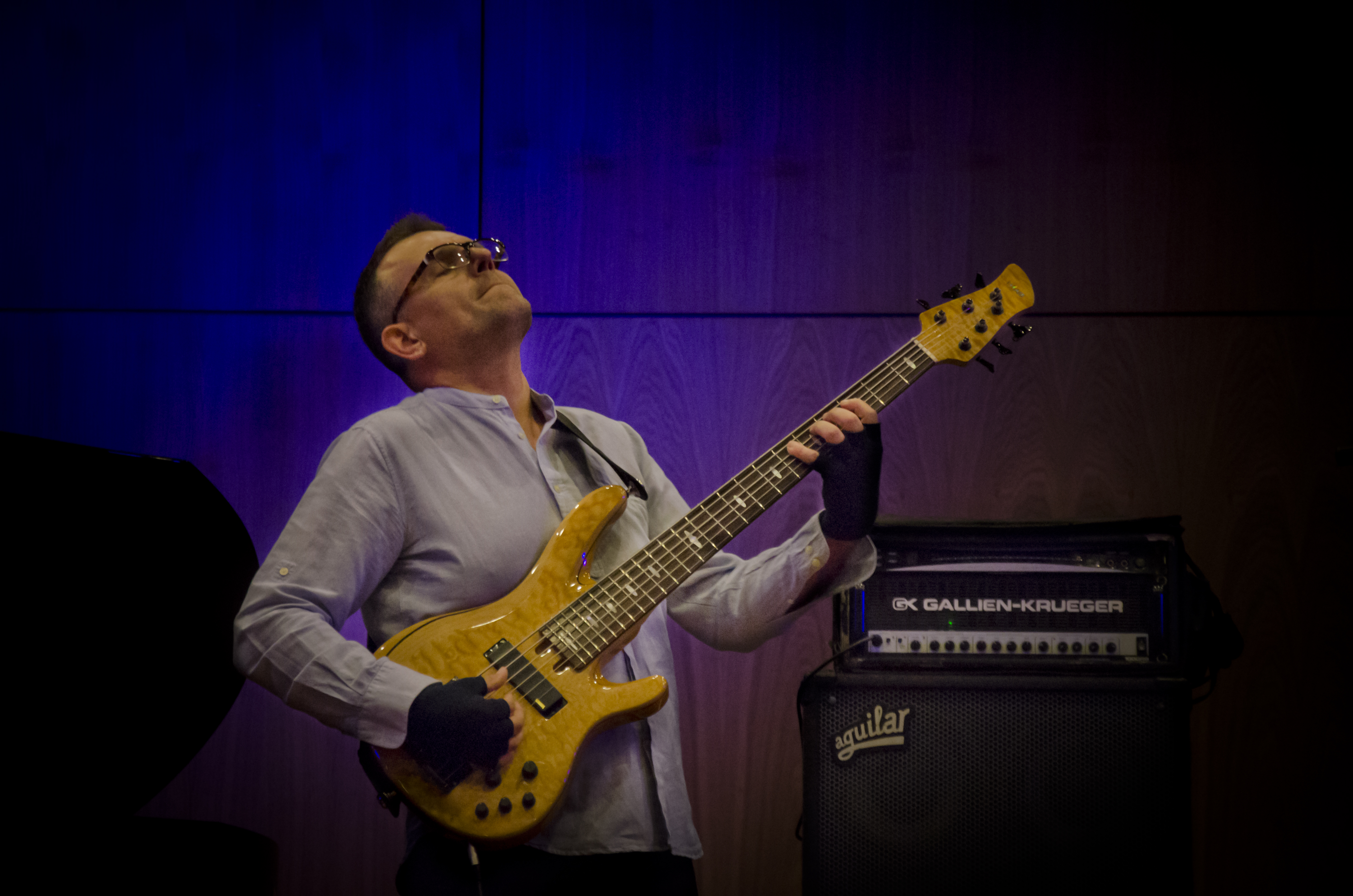 Born in Italy in 1969 where he started studying electric bass with Flavio Piantoni and Enzo lo Greco and double bass and jazz improvisation with Paolino Dalla Porta. He moved to live in Portugal in 1996. Studied jazz double bass at Oporto University where he got his degree in 2006 and his master in jazz in 2011. He has a PhD degree in jazz performance by the Évora University. He started his professional activity as a musician in 1990 playing in different clubs in Northern Italy. He played in Dubai with the Four Winds Quartet and worked with the American singer Trisha Smith. In March 1996 he participated to the young musician jazz contest in Krakow (Poland) and the same year he recorded with the group Consorzio Acqua Potabile. He worked and played with groups and artists such as: Jean Pierre Como, Antonio Faraò, Benoît Sourisse, André Charlier, Perico Sambeat, Ferdinando Faraò, Eric Séva, Laurent Filipe, Melissa Walker, Fernando Tordo, Amelia Muge, Susana Félix, Alexandre Diniz, Jacinta & Michael Bluestein, Ricardo Pinheiro, Ala dos Namorados, Fiçcões, Joel Xavier e Didier Lockwood, Politonia, among others. He attended some jazz workshops like "Jazz em Agosto" directed by Phil Markowitz, Ed Neumeister and Arnie Lawrence, the doublebass masterclass conducted by William Parker and a masterclass oriented by Peter Erskine. He played in several festivals: Avignon (France), Oeiras Jazz Fest (Portugal), Porto 2001 Festival (Portugal), Vigo Music Fest (Spain), 6th Matosinhos Jazz (Portugal), 2th Curitiba Jazz Fest (Brazil), 7 sois 7 luas Music Festival (Portugal), 4th Portalegre Jazz Fest (Portugal), CompoJazz 2007 (Spain), Gaia Blues Festival (Portugal), Aveiro 2003 Music Fest 2003 (Portugal), Lagoa Jazz Festival (Portugal), Festival Il Portogallo at Catania (Italy), 9th Festival Jazz aux Oudayas (Morocco), Mafra Cultural Summer 2004 (Portugal), 17th Macao Arts Festival (Macao).
His Cd "Varandas do Chiado", with original composition, has been published in 2012 and he is promoting and touring with his quartet. He's currently playing with The European New Quintet (with Benoît Sourisse, André Charlier, Perico Sambeat and Ricardo Pinheiro), with the Liebman/Laginha/Ineke/Cavalli/Pinheiro Quintet, with the project "Cinema&Dintorni", and with the acoustic world music project called "Latitude Quatro".
In October 2018 will be released by Dutch label Daybreak Records the CD "Triplicity" in trio with master drummer Eric Ineke and Portuguese guitarist Ricardo Pinheiro.
Currently, he is head of the department of Jazz and Modern Music at the Lusíada University in Lisbon where he teaches also electric bass, double bass, jazz combo, improvisation and introduction to the study of popular music.