Pinheiro, Ineke and Cavalli: Turn Out the Stars, the Music of Bill Evans review — robust tribute with striking subversions The Times 21st April 2021 by Chris Paerson
ALBUM REVIEW
Pinheiro, Ineke and Cavalli: Turn Out the Stars, the Music of Bill Evans review — robust tribute with striking subversions
Wednesday April 21 2021, 5.00pm, The Times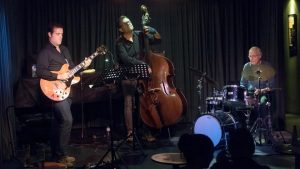 Guitarist Ricardo Pinheiro, bassist Massimo Cavalli and drummer Eric Ineke
JOAQUIM MENDES
Save
★★★★☆
The guitar-bass-drums trio format is beautiful but it can be hard to keep it interesting. Perhaps it's even more challenging when you draw attention to the absence of a pianist by paying tribute to one of the greats. Yet that is where this European group boldly go with their interpretations of pieces related to Bill Evans — and they succeed by replacing the reverence with robust playing, lively dynamics and striking subversions.
The Portuguese guitarist Ricardo Pinheiro is angular and emphatic with a commanding resonance. On the lively Peri's Scope he is bell-like and bouncy. The Italian bassist Massimo Cavalli can swap easily between sonorous, spacious solos (as on Interplay) and startling free-jazz frenzies. The veteran Dutch drummer Eric Ineke, whose dazzling list of collaborators goes back to Ben Webster, is intense, energetic and detailed.
Sometimes it seems that the band are roughing up Evans's gentlest creations to better reflect his addiction-plagued private life. A medley of Turn Out the Stars and Time Remembered descends into an increasingly fraught drum-and-bass battle into which Pinheiro fires stark chords before enshrouding it with wailing effects. The mellow Very Early turns into twitchy swing, it's once lullaby-like melody rudely awoken into a jittery riff.
Nobody messes with Waltz for Debby, though. Evans's most enchanting tune is played with more rigour than usual, with tangled guitar lines unravelling over brawny bass and supple drums, but is as charming as ever. Two non-Evans standards bracket the set. You Must Believe in Spring wittily borrows Miles Davis's Autumn Leaves motif for its doom-laden descent, while Some Other Time becomes a spooky slide into the ether. (Challenge)
https://www.thetimes.co.uk/article/pinheiro-ineke-and-cavalli-turn-out-the-stars-the-music-of-bill-evans-review-robust-tribute-with-striking-subversions-jw0k26qgf